Rocky the "Lil'Red Riv" and her big sister "Jackie"

We are relatively new to the Riviera's family. In Mid Feb 98 I was having some work done on my 66 Cadillac DeVille Convertible and I noticed a car buried in a row of Classic cars in various conditions. Under a grungy blue plastic cover, a interesting looking front end was peeking out, sad, droopy, one eye half closed, low old tires, and forsaken. It seemed to have been sitting there for a while. I looked under the nasty blue plastic covering, and there was this..."Riviera?! " a red one. I always thought a Riviera was this huge boat tailed beast of a car. I cracked open the door and sat in the car. The old reggie, I noticed, had expired on Nov 1989, it was a ...1965? I love most any vehicles from the mid 60's. I got this tingly sensation, the interior was pretty mildewy, maybe it was the mildew, wow, it made my eyes water! The "Lil'Red Riv" had been partially disassembled. The radiator was out, the fan pulleys were out. It was pretty decent inside though, some one had put in white leather seats front and rear, a new headliner, and a wood kit had been installed as well. Minimal Rust. It was obviously not running, all the parts seem to be there in the trunk though. I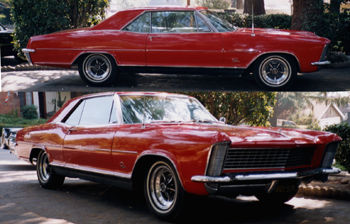 eventually inquired about it's status after a few visits, I was told it was owned by one of the employees, and may be up for sale. Eventually I made a deal and purchased the "Lil'Red Riv" for my wife Ulli. She thought it was a very cool car...! The shop agreed to rebuilt the motor (a 401ci) for a special price, since I was such a good customer! (I should've known!) After they put the motor all together they forgot to balance the motor! So on and so forth. Ugh! They got it running more or less by late May. Interestingly enough the early Rivs use the same spark plugs as my Pan Head and early Shovel Head Harley Davidson's! This must have been a good sign!
Well...Once I started her up and took my first ride. WHOA!!! there was no turning back! I had to have this car for myself! I handed Ulli the keys, but told her not to get too used to it. I still had some work ahead! (a solid valid excuse). I cleaned and sprayed the interior down with "Febreze" an odor remover to get rid of the mildew smell (man dis stuff, it works!), new tires 225/75R (too big I think), over hauled the transmission, new track bar bushings, front coil springs, 18" Glass packs dual exhaust, gas sending unit, Kenwood stealth remote controlled car stereo, a rebuilt Head light visor motor, rear KYB shocks, new performance plug wires, a new radiator, and the ignition system and timing was set up improperly by the rebuilder, so it had to be reworked, timed, and brought in to proper specs by Larry Daisey of Riverside Ca. By this time I was pretty well smitten, and broke with our "Lil'Red Riv"!
U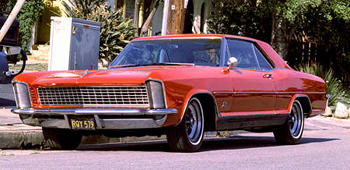 lli was not going to let me off so easy either, because it's supposed to be her car!!! "Oh Yeah...? FINE!! I'll Sell the dang Caddy then! and žI'll get another Riv just for you Ulli !!" Thanks to the "The Riview" classified I found one, a beautiful White w/Blk Vinyl top 1964! (425ci... wow what a difference!). Bob Filben, An ROA Member, in Sun City California, owned the 64 since1965. He had the original window sticker from "Colonial Buick" in Glendale, California it was a whopping $5,466.71, and a stack of receipts from day one, what a guy!!!! He took 3rd in a show once as well. He had the black vinyl top installed early on and kept her otherwise pretty stock and garaged. He threw in a extra tranny, a service manual, original owners manual, and best wishes. He not only sold it to us but, I really think, handed her down to us. He told us he would only sell it to someone who would take care of his old baby. He turned one guy down before us, who wanted to customize it! Thanks Bob, we'll take good care of her!
Well...Ulli loves this car! She named her Jackie, mainly because the plates letters are JKL ergot Jacqueline! The name fits. The "Lil'Red Riv" is Rocky (RQY). Jackie's interior was perfect, the ash trays, I never ever saw this before, were never used!! (It'll stay that way too). The only changes we made (sorry Bob) were Dyno exhausts to give Jackie a bit more rumble, it was really very quiet, not like Rocky's Rolling thunder, so we gave it just a skosh more rumble. (Ulli insisted on it, she kept driving Rocky because it really rumbled!) And we replaced the old out board stereo with a new Remote controlled Kenwood stereo similar to mine and mounted it out board, and that's about it.
When we go out at night I like to drive the 64 , because the light towers are really dramatic at night. Ulli will occasionally drive Rocky (because it growl thunders) but we trade off ya know, we share, oh yes...we do!!


Our Thanks to:
Larry Daisey ROA 3410, Bob Filben ROA 3198, Steve Joseph, Chris and Kirk at Advance Muffler, Brett at Bobs paint & body in Pasadena, Caldwell Tire in Pasadena, Renee at Classic Transmissions in Pasadena, Randy Rymal ROA 2958, Ken at Wheatbelt, Jim & Gibb at Buick Specialists, Mark at Under Car Plus, Mark at Classic Buick inc, and last but not least Ray Knott of ROA without his club, much of this would be impossible. HOO HA!
See You all on the Road!
JC & Ulli Matsuura
ROA#6984